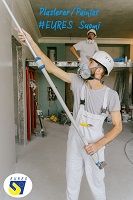 Job description (enter the actual advertisement text here, the text must not contain special characters or formatting)*:
plasterer/painter
Company
Established in 1987, Maalausliike Porkamaa & Kallio is a Kalajoki-based company specialising in the surface treatment of indoor and outdoor surfaces of buildings. Our office is located in Himanka, and our worksites are mainly in the Central Ostrobothnia and Northern Ostrobothnia regions.
For more information, please visit our website at https://maalausliike-pk.fi/en/frontpage/.
What does the job involve?
- Indoor walls and ceilings: levelling, repairing, painting and wallpapering
- Facades and external walls: layer, single-layer and insulation plastering
- Stone and wooden facades in old buildings: removals of existing paint using various blasting or chemical techniques, repairs, coatings and painting
- Balconies: surface treatment and repairs
- Rooftops: all surface treatments
Download the
Document
- [
Scarica .pdf - 169 Kb][
Apri .pdf ]