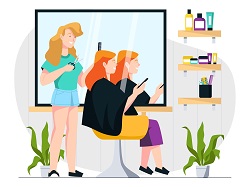 Are you motivated for new challenges, and want to be a part of the Cutters family?
Then you are the one we are looking for: HAIRDRESSERS
We are always on the lookout for talented hairdresser's that know how to put visiting guests in the center of attention. At Cutters we love to give our guests the best possible experience that they can have in our salons.
We are looking for new employees that share our passion about hair combined with high service, who are professional and always give our guests a high focus and a big smile Cutters main focus is to make sure all of our customers feel seen and taken care of when visiting our salons, where eyes for details is one of our core values.
We want our customers to feel like the true rockstar they are For those who work in Cutters, it is as much important to offer an effective and quality proof haircut, as well as making customers feel welcome at our Cutters salons and taken care of in the best possible way.
So if you love to cut hair and love to provide good service, we would love to hear from you - we take care of each other, and our goal is to create the best working environment for our employees.
Scarica il
Documento completo
- [
Scarica .pdf - 35 Kb][
Apri .pdf ]