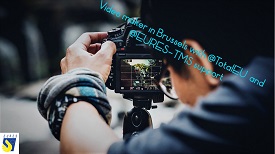 The Role:
A highly motivated and dynamic person, able to work under pressure and independently by managing her/his own time and work priorities. The Total -eu is a small team, hence this job opening would suit somebody who is flexible, willing to learn, extremely interested in Eu policies and activities, with hands -on in video production, communication strategy, story-telling
Who we are?
http://totaleu.eu/who-we-are/
is a European video news production agency created by a dynamic team of videomakers and journalists covering all the main events of the European institutions (Parliament, Commission and Council) in Brussels and Strasbourg and the main event in Europe.
[...]
Number of available positions:
1
Location:
Brussels-Belgium
[...]
How to apply:
Please send a mail with subject '[Application] Video maker Total Eu including a CV and a motivation letter to
director@totaleu.eu
cc to
eurespuglia@regione.puglia.it
Deadline: 25/08/2021
Incomplete applications will not be considered. Candidates will only be contacted if selected for an interview. The interviews will take place in the first week of September via Skype.
Download the
Document
- [
Scarica .pdf - 229 Kb][
Apri .pdf ]