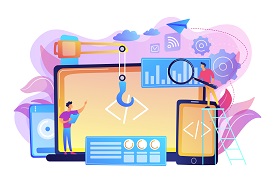 EMPLOYER DETAILS
CONTACT PERSON: Daniel Biel Marquès Armet
NAME OF COMPANY: EVERIS SPAIN S.L.U.
SOCIAL SECURITY NUMBER 08/1301414/88 NIF: B82387770
ADDRESS: Camino de la Fuente Mora 1,
POSTAL CODE: Camino de la Fuente Mora 1, 28050
TOWN AND COUNTRY: Madrid, Spain PHONE: +344947700 FAX:
MOBILE: 115749
E-MAIL: danielbiel.marquesarmet@everis.nttdata.com
WEB: everis.com
ECONOMIC ACTIVITY: IT Consultancy
EMPLOYEES NUMBER: 27.000
PLACE OF WORK: Mallorca
NAME: Back-End JAVA Developer
DUTIES:
Are you looking for the next step in your career? Would you like to be one of our first employees in our new talent hub in Mallorca delivering complex integration projects for our International Clients? If you are open to new challenges this is your opportunity, join everis!
We are currently looking for a Back-End Developer to join our team in Mallorca in the International Organisations sector, with the following characteristics:
NUMBER OF POSTS: 5
[...]
APPLICATIONS:
BY FAX, PHONE,e-MAIL (a.s.o.)
danielbiel.marquesarmet@everis.nttdata.com
and cc
eurespuglia@regione.puglia.it
REFERENCE:
CONTACT PERSON: Daniel Marquès
DEADLINE: 08/10/2021
Download the
Document
- [
Scarica .pdf - 109 Kb][
Apri .pdf ]