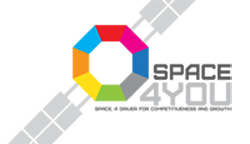 Registrations open
The
NEREUS International Conference 2014
is organised around the theme « Space4You » highliting how space can drive socio-economic activities and provide opportunity for growth and employment.
The « Speed professional networking » will create the opportunity for students and young professionals to meet representatives of space agencies, industries and other institutions, in order to share their ideas and learning more about different careers in space, science and technology.
The event will be organised in a series of brief (4-6 min) one-on-one information exchanges, giving the opportunity to meet a lot of people in a short amount of time. In about 6 minutes the participants need to let professionals know who they are, what are their expertises and the aspirated job…. And don't forget your business card.
In order to join this event, you are invited to register online and fill the following form. Please send this form to
space4you@regione.puglia.it
For further information, please contact
Fiorella Coliolo
, coordinator of this event :
fcoliolo@exoworld.net
Do you like to know more about the rules of a Speed Professional Networking ?
Please visit :
www.careervision.org/about/Speed_Networking.htm
www.consultnetworx.com/speed-networking-goes-to-work
http://www.youtube.com/watch?v=AOuBUlirWqw
Download Speed Professional Networking Registration Form
- [
Scarica .doc - 56 Kb][
Apri .doc ]