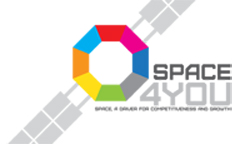 The International Conference
"Space4You - Space, a driver for Competitiveness and Growth"
promoted by
Apulia Region
and
NEREUS
(Network of European Regions Using Space Technologies), in collaboration with the
Apulian Aerospace District
, will take place in
Bari
, the main city of Apulia region, in the South of Italy, on
27th and 28th of February 2014
.
This conference will bring together representatives from European Regions, European Commission, space agencies, industries, regional and national institutions, academia, space associations, research institutions and universities, citizens, to highlight the fundamental role of "Space as a driver for Competitiveness and Growth".
Space technologies have become an important part of everyday life. Participants will present how the use of space assets and applications is fundamental for European Regions, to foster new business and to address social, economic and security challenges with efficient and sustainable tools.
The programme includes user-driven sessions, thematic sub-sessions, round tables and special events that will allow European Regions and key-players to open debate, to share knowledge and expertises on the importance of space applications - and derived services - for growth, social benefits and sustainable development.
A dedicated session to Space Careers will give the opportunity to students and young professionals to meet representatives from different institutions and industries to discuss future opportunities in the space sector.
The 2014 edition of the NEREUS International Conference will be accompanied by an exhibition promoting regional, national and European space activities.
This Conference will therefore allow the international space community, under the auspices of NEREUS and the Apulia Region, to pave the way for a reinforced action towards a continuous and systematic use of space data and technologies in Europe. NEREUS and Apulia Region want to play a key role in this process, and the results of this International Conference will help them to build a concrete strategy and its relevant implementation plan starting from 2014.
The Conference is the first event in 2014 among those included in the Apulia Region "International business promotion programme for regional industry clusters 2013-2014", supporting research internationalization, with a view to the Smart Specialization Strategy and organised by International Business Promotion Department and Industrial Research and Innovation Department, within the Economic Development, Employment and Innovation Policy Department,.
Participation in the Conference Space4You is free of charge
For further information, please contact the organizing secretariat :
space4you@regione.puglia.it
- tel. +39 080 2195826
(versione in italiano)
La Conferenza Internazionale
"Space4You - Lo Spazio, una chiave per la competitività e la crescita"
, promossa da
Regione Puglia
e
NEREUS
(Rete delle Regioni europee utilizzatrici di Tecnologie Spaziali) in collaborazione con il
Distretto Areospaziale Pugliese
, avrà luogo a
Bari
il
27 e 28 febbraio 2014
.
Parteciperanno alla Conferenza i rappresentanti di Regioni europee, Commissione Europea, agenzie e associazioni spaziali, imprese, istituzioni nazionali e regionali, enti di ricerca ed università, cittadini, in un confronto teso ad evidenziare il ruolo fondamentale dello "Spazio come chiave per la competitività e la crescita".
Sarà l'occasione per illustrare come l'uso degli asset dello spazio e delle sue applicazioni è fondamentale per le regioni europee sia per favorire la nascita e la crescita di imprese sia per affrontare, con strumenti sostenibili ed efficaci, le nuove sfide sociali, economiche e della sicurezza.
Il programma include sessioni orientate agli utenti, sessioni tematiche, tavole rotonde ed eventi speciali che permetteranno alle regioni europee e agli attori-chiave di avviare un dibattito e condividere conoscenze e competenze sull'importanza delle applicazioni spaziali- e dei servizi da esse derivanti- per una crescita e uno sviluppo sostenibili.
Una sessione dedicata allo Spazio per la carriera darà l'opportunità a studenti e a giovani professionisti di incontrare rappresentanti di diverse istituzioni e imprese per condividere le opportunità future che offre il settore spaziale.
L'edizione 2014 della Conferenza Internazionale NEREUS sarà accompagnata da una mostra sulle attività spaziali regionali, nazionali ed europee.
La Conferenza, pertanto, permetterà all'intera comunità dello spazio di rafforzare l'utilizzo, continuativo e sistematico, dei dati e delle tecnologie spaziali disponibili in Europa. NEREUS e la Regione Puglia intendono svolgere un ruolo chiave in questo processo e i risultati della Conferenza internazionale contribuiranno alle future pianificazioni strategiche del settore.
La Conferenza è il primo evento del 2014 tra quelli previsti dal "Programma di Promozione di Internazionalizzazione dei Sistemi Produttivi" della Regione Puglia, organizzato dal Servizio Internazionalizzazione e dal Servizio Ricerca Industriale e Innovazione dell'Area Politiche per lo Sviluppo Economico, il lavoro e l'innovazione, a supporto dell'internazionalizzazione della ricerca, nell'ottica della Smart Specialization.
La partecipazione a Space4You è gratuita
Per maggiori informazioni contattare la Segreteria organizzativa:
space4you@regione.puglia.it
- tel. +39 080 2195826
-